Info about Travel.ru in English language
Info about Travel.ru in English language
Travel.ru is one of the most popular and trusted sources for travellers and tourists in Russia. We publish news, articles, reviews, unique travel guides, and a lot more. The website is updated daily and attracts over 1.500.000 unique visitors per month.
Since 1998, Travel.ru is recognized as the place to pick a tour package, book a ticket and a hotel, gather information about the destination region and travelvisa requirements, and browse through last-minute deals and specials.
Travel.ru cooperates with tour operators, travel agencies, consulates, hotel branches, transport companies, tourism offices, and airlines. Thanks to our business contacts we always have correct information at first hand. Among our friends and clients one can see companies that are not directly involved into tourism but can be interesting for travelers as well: banks, insurance and exhibition companies, mobile operators, producers and distributors of photo equipment and publishers of thematic literature. Travel.ru is enjoying high reputation among its clients.
Website Traffic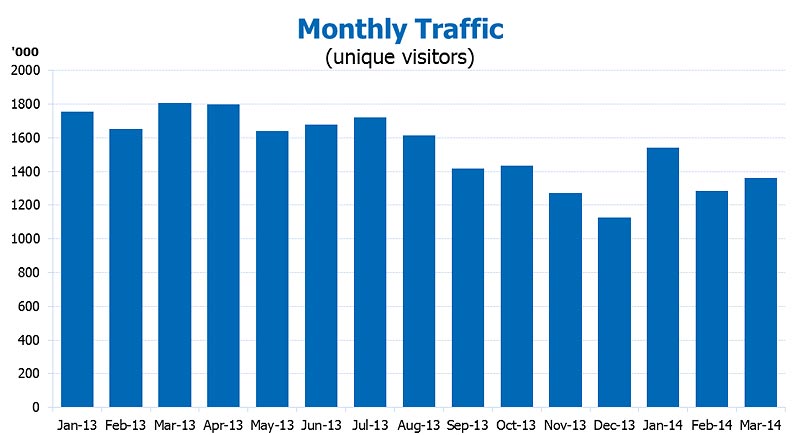 In 2013 average daily traffic on weekdays was equal to about 66K unique visitors, weekly – up to 500K visitors, monthly one – about 1.5 million unique visitors.
Averaged website traffic indicators, 2013

Audience description
The majority of Travel.ru visitors are active internet-users at the age under 35 years old (54%).
Female audience counts for about 64% of all website visitors.
45% of Travel.ru visitors are from Moscow and Saint-Petersburg.
While only 11% of Travel.ru visitors surfed the website using smartphones and tablets in 2012, in 2013 this number has increased to 22%.
Almost 70% of visitors travel at least once a year, 12% – go abroad more than 4 times a year.
More than 20% of website visitors go for business trips not less than twice a year.
91% of Travel.ru audience in 2013 shared their holiday with sightseeing, 77% preferred spend their vacation in a couple as well as beach-related rest, 59% of website visitors were looking for some entertainment while travelling.
Except for travelling, Travel.ru audience is interested in cinema (32.9%) and literature (16.4%), business (19.8%), and in cars too (14.5%).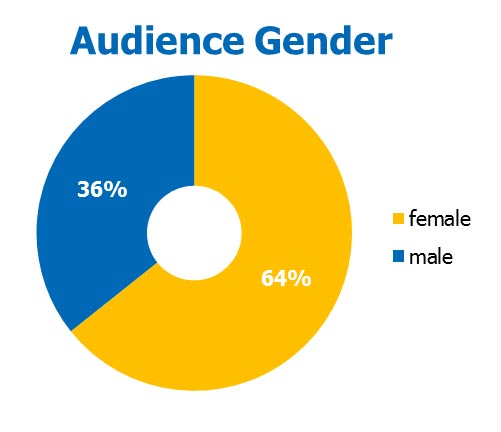 The Most Popular Sections
Information
Homepage. www.travel.ru
The page consists of website menu, news and articles announcements, and advertisings. In average, there are 60.000 views per week.
Country Guides. guide.travel.ru
The largest Russian online guide to 233 world's countries. Besides general information, the section contains maps, magazine articles, photo reports, travelogues, and personal comments from travelers. Over 350.000 pageviews per week make this section the most visited on Travel.ru.
News. www.travel.ru/news
News articles about tourism, updated daily. Average weekly pageviews is 175.000, whereas the number of subscribers reaches over 70.000.
Photo Reports. reports.travel.ru/reports
Travelogues and Travel Stories. reports.travel.ru/letters
Weekly updated section with professional photo reports, hotel reviews and stories from all over the world. The section is viewed 125.000 times per week.
Forums. www.travel.ru/community
For active communication, there are thematic conferences divided by regions and countries. The number of registered users is approaching 15.000.
Tourism Industry. profi.travel.ru
Federal register of tour operators, thematic websites statistics and a calendar of exhibitions.
Services
Hotels. www.travel.ru/hotel
Hotel reservation system with the information on special offers.
Airline Tickets. avia.travel.ru
Airline tickets search engine and online booking. Offers are sorted by prices. Hot deals and special offers are posted along with the information about airlines and airports, travellers' tips and comments. An average number of pageviews in this section is 200.000 per week.
Railway Tickets. rw.travel.ru
Russian Railway tickets booking system. Information related to railway tours around the world. There are about 60.000 pageviews in the section per week.
Tour Packages. db.travel.ru/tours/
Last-minute Deals. db.travel.ru/hot/
Convenient search and easy-to-read listings. Information is updated by agencies daily. There are about 60.000 pageviews in this section per week.
Advertising Opportunities
Travel.ru cooperates with tour operators, travel agencies, hotels, transport companies, tourism offices, and airlines. We offer highly-visible placements that allow our advertisers effectively promote their services. Plus, there are companies that are not directly involved into tourism, but still can benefit from advertising with us. Banks, insurance and exhibition companies, mobile operators, producers and distributors of photo equipment and publishers of thematic literature can be interesting for travelers as well.
We place highly-targeted banners, as well as other graphic and textual information about travel agencies in different sections of our website. A customer interested in a service or product approaches through the ad to clients' website and books a service or merchandise directly.
Banner ads
Our partners can manage frequency of demonstration, limit geography to certain regions or cities, and even choose the time of the day to advertise. Targeting allows placing banners directly to potentially interested users.
Distribution of banners can be static and dynamic. We place banners in different formats, such as 728х90 pixels (top of the page), 240х400 (right, center, two banners on the page), and 200x300 (right on the main page, four banners in rotation). Distribution of banners is possible on all pages or in specific sections, such as airline tickets, hotels, tourist business, country guides, etc.
Adding to database
Your information can be placed according to the number of tours, based on the number of tours to every country or in Hot Deals section.
Placing in a Tour Listing: An opportunity for a travel company to promote its current tour packages. The information about tours is placed and updated through Web interface.
Placing as a Hot Deal: An effective way to sell last minute travel offers. The section is visited by 2.000 people looking for last-minute deals.
Promoting as a special offer
Information is published in a form of text blocks. There are up to 500 symbols in each block, excluding contact information. The section is viewed by over 1.000 visitors per day.
Links
Links are placed on the pages of countries and in sections. They are also listed in a catalogue that is available at links.travel.ru.
Feedback from Our Clients
"We worked with Travel.ru during last few years and are grateful to managers of Travel.ru for friendly, prompt and efficient cooperation. Travel.ru offers reasonable, available and flexible prices, which is essential for most of tour operators and agencies."
Irina Sadovskaya,
Head of Department of Advertising and Informational Center at Intellect-RIC
"AirFrance and KLM regularly advertises their special fares on Travel.ru. We thank Travel.ru team for an effective and professional work."
Vera Dobrotina,
Internet Sales Coordinator, Air France and KLM in Russia and CIS
"We pay special attention to promoting Switzerland through the Internet. Travel.ru has been our friend and partner for more than two years. Journalists of Travel.ru regularly attend our press-tours and always publish interesting and well-illustrated stories and photo reports."
Maria Makarova,
Marketing Manager, Switzerland Tourism in Russia and CIS
"Travel.ru gives travellers what they really need. The information on the website is well-structured, every article tells you about real things. Austrian National Tourist Office in Moscow appreciates cooperation with Travel.ru. All of our projects have been completed in time and with good results.
Verena Hable,
Marketing Manager, Austrian National Tourist Office in Moscow
The "Travel.ru Star" Award
The Travel.ru presents its annual "Travel.ru Star" award. The "Travel.ru Star" is the first and unique consumer award in the field of travel industry in Russia. Since 2003 the winner of the award has been selected by means of travelers' and tourists' online voting on the Travel.ru website. It is the customers who name the best of the best among travel agencies, hotels, resorts, airlines, countries and sources of information. Every year thousands of Internet users participate in the online voting. Currently there are 71 nomination categories for the "Travel.ru Star" award. Everybody who takes part in the online voting can submit nominations in the existing categories (please note that it is permitted to submit nominations in several categories). Every submission made by tourist voters is immediately entered into the award competition free of charge.
Contact Information
Chernoy rechki, 41
St.Petersburg, Russia
tel: +7 (499) 229-40-42, +7 (812) 622-62-80, 8 800 100-39-95
email: adv@travel.ru, info@travel.ru
Контакты
Компания

По вопросам сотрудничества и рекламы
ООО Технологии Туризма
ИНН/КПП 7814725344/781401001
Российская Федерация, 197374, г Санкт-Петербург, Савушкина ул, дом 128/1
Договор оферты

E-mail

adv@travel.ru (по вопросам размещения рекламы)
info@travel.ru (для общих вопросов)
hotels@travel.ru (вопросы о гостиницах)